DIY Oxygen Analyser
So far, I've made 2 analysers. They both utilise the Omni Components supplied International Technologies M-03F oxygen sensor.

The 1st analyser was as described on Dave Cordes site. Accuracy, when compared with commercial analysers, was within 0.2% with excellent repeatability. The finished article basically consisted of a multimeter (it had a 200mv range and only cost a tenner) with a bolt on module containing the circuit. The multimeter was hacked so that when the central dial is turned (switching the unit on), it always ends up on the 200mv DC range.

During the calibration process, the bolt on module was uncased, giving my friendly dive shop owner one or two reservations as to letting me play with 'it' and pure O2. After calibration, it was tested against a 50% mix lying in the shop. The shop analyser said 50.1%, mine said 50.2%.
The finished prototype is here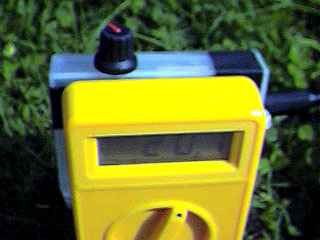 A few modifications were made to Dave's design. Firstly, I didn't need the timing circuitry as the unit would derive it's power from the multimeter. Next, the multi-turn pot was unavailable from Maplin's and rather than purchase an expensive alternative, I decided an 18 turn trimmer pot (79p) would do the trick. The downside to this is that you need to fabricate a spindle and knob to adjust it. This was achieved by filing the end of a rivet until it fit securely into the adjustment screw. The knob was then glued into place at the other end.

The finished article looks pants, but hey, it works, and who's going to 'borrow' it if left unattended?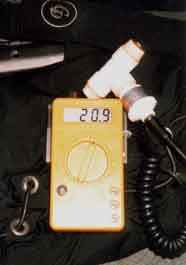 The next job was to construct an adaptor to actually sample the mix. Once again, a prototype design and a more functional design were created. Both began life as a plastic overflow 'T' piece. The prototype basically consisted of the T, a reducer insert and Epoxy resin. I won't go into details about this one, suffice to say it was adequate (see the above photo) but far from ideal. From this, Mk2 and Mk3 were born.

The following photo shows sampling of nitrox using the Mk2 adaptor and the first prototype analyser:-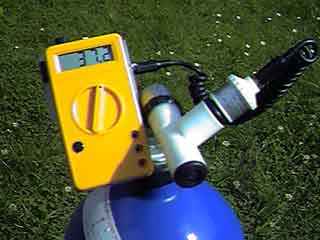 Not being happy with only owning 1 analyser, I decided to make another (well 2 if the truth be known).

Analyser Number 2