GPS Assisted Wreck Search
For arguments sake, we've already had a hit on the 100m search grid and now want to actually survey the wreck topside prior to diving the wreck. This survey will hopefully provide us with some valuable clues as to what we're actually going to dive. For a detailed survey, a small grid is preferable, but in this instance a 20m grid will be used.
The initial contact was made on easting 0455870. If we therefore start our search 80m west (or east of this point) we may find the start of the wreck. Why not start 100m from the hit? We've already been over that ground and it turned up a blank.
The search starts heading north on the 0455790 easting. We travel 150m or so, then head east for 20m. We then proceed south on the 0455810 easting for 150m or so. Any contact points are marked with the GPS (or mini shot lines if you're so inclined), the difference being that both the make and break of contact are recorded. When the end of the track is reached, a further 20m are travelled eastwards and the search resumed travelling north. Points are recorded until a total loss of contact is made. See the figure below for the typical path and points.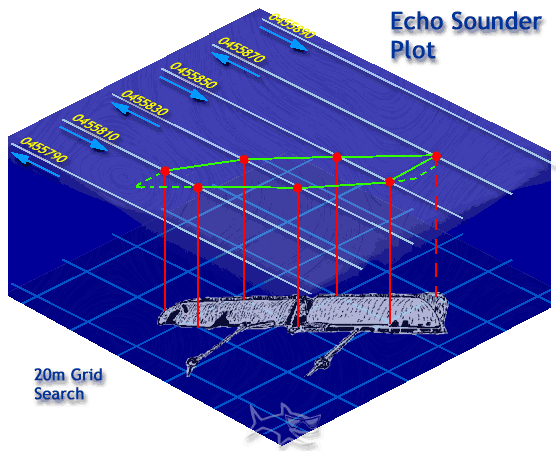 If the same search were undertaken with a magnetometer towed behind the search vessel, the make and breaks of contact would be offset from their true locations (move your pointer over the above graphic for an example) dependening on the distance the towfish trails behind the boat. This can be taken into account when plotting the GPS marks and the true location calculated.
The advantage to marking both the makes and breaks of contact is that a 2d picture of the wreck can be constructed. The location of the points can help to tell whether the wreck lies on its side - irregular points on one edge indicating superstructure - or whether the wreck lies right way (or upside down) up. The orientation can be easily seen, together with the vessels physical size. In the above example, the length of the wreck is between 60 and 80m, it's breadth about 15-18m, so the vessels weight could be estimated at around 3-4000 tons. All this from a simple search! Not so much use when the wreck is in shallow water and can just as easily be surveyed underwater, but when time constraints apply - depth or currents - a suitable dive plan can be formulated beforehand.